You've heard us say before that Bondi Chai has enthusiastic fans around the world and that we've been, and currently are, in many countries overseas. Well, now that the borders are open and international travel is back on the agenda, Martin and Melissa ventured over to Europe and visited a few cafes across Spain and the Netherlands that have been part of the Bondi Chai family for years.
Join us as we take you through some Global Bondi Chai moments…
Madrid, Spain
It's a bit of a family affair at Agrado Café in Madrid where owner Luis Gonzalez works side by side with his daughter Maria.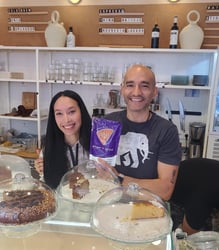 Nestled amongst the medieval streets of the popular Lavapiés district, the café has a welcoming and relaxed, with a natural and organic aesthetic vibe, dedicated workspaces and even selfie mirrors in the bathrooms.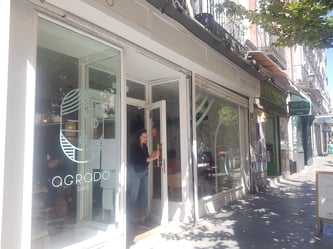 Luis loves our Ginger n Spice flavour as a dairy-free and vegan alternative but says it has a loyal customer following mainly for its amazing taste and most customers order it with oat milk.
"Bondi Chai is the best chai latte in the world, man! I tried so hard to get it for my customers
and I was soooo glad when I found a supplier in Europe."
- Luis Gonzalez
Zwolle, Netherlands
Brasserie Jansen has been a long-time fan of Bondi Chai's Club Cinnamon flavour. You may have seen them before on our social media. Open from 10am - 10pm, their delicious Italian-influenced menu certainly draws a crowd and with their motto 'Never Stay Hungry', they don't disappoint!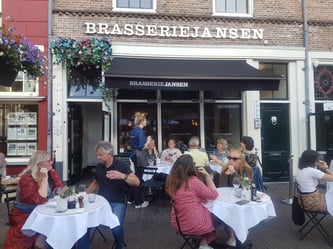 It doesn't matter what you're in the mood for, whether it's a full meal or just some snacks with a quick drink (hot or cold), it's a great place to meet family, friends, or both.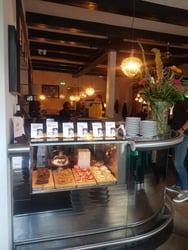 Their reputation for being one of the foundation rocks of the Zwolle hospitality scene is definitely well-deserved.
Brownies&downieS stands out its unique and wonderful community-focussed initiative. As the name suggests, the café was established specifically to employ and train young people with intellectual disabilities (like Down Syndrome) for a career in hospitality.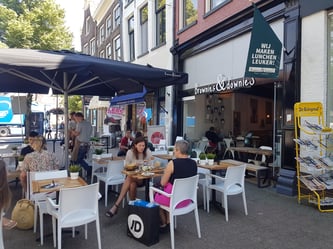 Since its opening in 2010, the company has grown to more than 50 outlets across The Netherlands and at the Zwolle branch, they just love Bondi Chai. During their visit, Martin and Melissa could see that the staff really love their work at this little gem.
Another family owned and run business and the city store, operated by Bart (pictured left below), is one of three cafes flying proudly under the Everyday Bread & Coffee banner. The other locations are run by his brother, Tim, and their dad.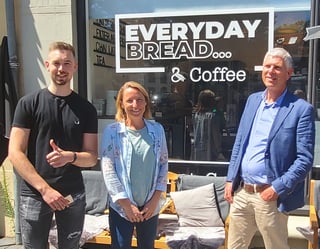 Bart's positive approach to life and strong character have seen him through severe health challenges and keep him moving from strength to strength.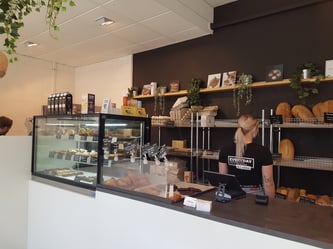 So what's special about the bread at Everyday Bread Café? Well, it's baked with only natural and honest ingredients, meaning that there is no sugar, lactose, artificial e-numbers or other nasties. And it's DELICIOUS! Each loaf is made by hand, in accordance with the old French tradition, so no two are exactly the same.
Situated on "the nicest street in Zwolle", this yoghurt shop turned cafe is hands-down one of the yummiest places you'll ever visit! Lots & More started out as Lots of Yoghurt, serving yoghurt, smoothies and homemade sweets, but have since expanded to include salads, waffles, and special drinks and have never looked back. Their menu is definitely drool-worthy!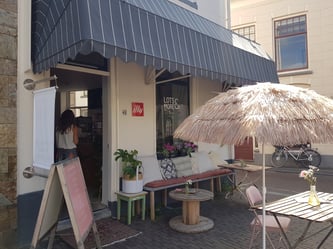 So what sets Lots & More apart from the rest? Aside from having a passion for all things food and an all-day brunch concept that brings good food, drink, and a cozy place to chill out together, they also believe in supporting local industry by selling wares (like jewellery, hair accessories, baby products, art, bread, fruit, etc) from local producers in-store.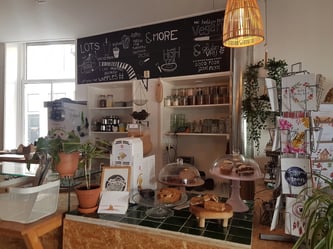 Lots and More also have a bespoke catering service, so if you want to head out for a picnic or host a high tea, they've got you covered. Just be sure to ask them to include Bondi Chai in your order 😉
Amsterdam, Netherlands
If you love a venue that's got an authentic, social atmosphere with a little bit of rebellion thrown in for good measure, the Bulldog Energy Cafe is for you! Martin and Melissa were served a Bondi Chai "Bulldog style" and it was certainly in a league of its own.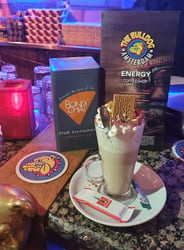 This is an experience not to be missed while in Amsterdam. The outdoor seating during the warmer months will see you taking in water views and the canal boats passing by, and the high-tempo music inside creates a vibrant atmosphere to enjoy.
Have you experienced a Bondi Chai moment while travelling? We'd love to hear about it in the comments below.