Bondi Chai has been bouncing around the hot drink scene for quite some time, and we've understandably been through a lot of changes along the way – with the packaging, never with the recipe (you can't improve on perfection). With some more exciting changes coming just around the corner, let's take a look back on the evolution of the brand…
When we first started out in 2005, we kept it pretty simple with a square 'fill, form and seal' package for 1kg of each flavour. We were confident that our products would stand out for what was important – their amazing taste – so fancy packaging wasn't a necessity to get us off the ground. This served us well as we started gaining traction in a market that largely didn't know what a chai latte was. People loved them and wanted more, more, more!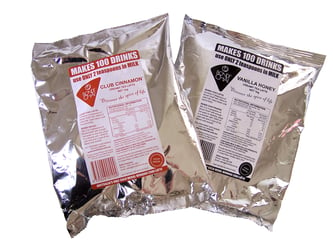 It wouldn't be long before we were in a position to widen our offering so when 2007 rolled around, it was time to start thinking about our brand again. Considering that our cafés knew what they were getting when they ordered Bondi Chai, we decided to keep the plain look for the 1kg packs and upgrade the 'fill, form and seal' bags to more compact pouches, but we were also getting requests for smaller consumer packs for home, and so the 250g pack was born. Time to decide on colours!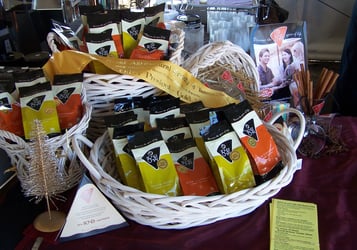 After much discussion and too many options to count, we settled on our signature orange and yellow for Club Cinnamon and Vanilla Honey, respectively, and we still use them to this day! We also introduced single-serve sachets that reflected the designs of the 250g packs and made them easily recognisable as Bondi Chai. These handy little packets served a dual purpose: they were the perfect size to carry around in your bag or pocket for an on-the-go or at-work chai hit, and they also allowed us to offer the chai lovers out there a chance to 'try before you buy' outside of the food festival circuit.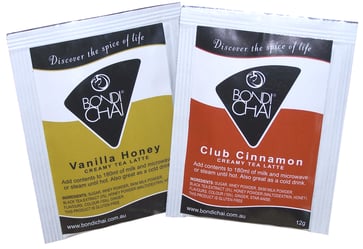 While we were in brand building mode, we decided to go the whole drink and piece of cake. What does a great chai latte need most? A great latte glass, that's what! The perfect size for a Bondi Chai latte, and a snazzy addition to any café shelf, our Italian glassware also showcased one of Bondi Chai's huge points of difference: it dissolves completely in hot milk (no yucky sediment and fillers at the bottom of the glass). It's what we don't put in it that makes the difference.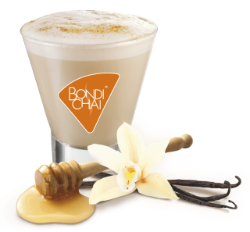 By 2013 Bondi Chai was heading into supermarkets across the country and it was time for a revamp of the single-serve sachets. This time we decided to go with a completely different colour scheme and packaging shape to make Bondi Chai stand out on supermarket shelves. The new 'sachet stick' made sure all the mix made it into the cup and with less mess.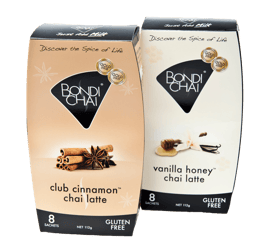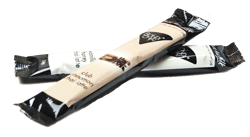 Around the same time we decided that a consumer pack update was also due, and a change from 250g to 200g packs which remain today as 'retail' packs and are mostly bought by chai lovers for their pantry.
The following year we saw a noticeable increase in cafés wanting to promote Bondi Chai by displaying packs on their shelves and decided it was time to give the 1kg packs a makeover and align them with the 200g packs. The new styles were bold and free-standing – definitely eye-catching!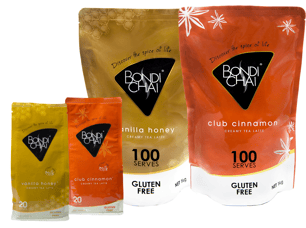 While we were giving the packaging an upgrade, we were also developing a storage canister and a cute hug mug, you may have seen them in your local café from 2015. Over the following years, we would also add a short run of tall acrylic glasses that are still used in some cafes today, and a branded keep cup.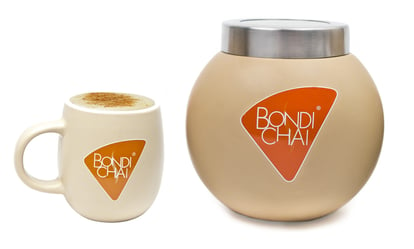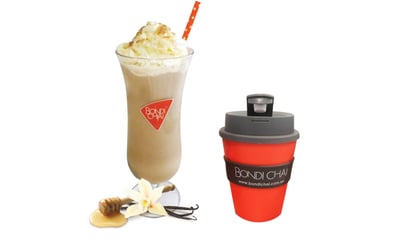 Knowing the single-serves were popular (although no longer available in supermarkets) we decided 2016 was the year to align them with the 1kg and 200g packs. We followed this up in 2018 with some fresh 1kg packaging – the one you know and love today.
If you're familiar with our range, you've probably noticed we haven't mentioned Ginger n Spice at all. That's because our spiciest offering is also the baby of the family and was born in 2019. Bringing Ginger n Spice into the world wasn't just about adding a new flavour, it was also a response to the growing community of dairy-free and vegan people out there who were missing out on the Bondi Chai experience because of the milk powder in the Club Cinnamon and Vanilla Honey varieties.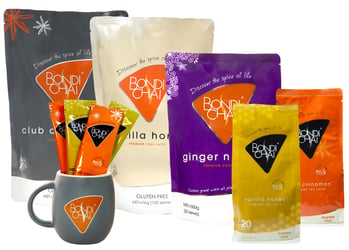 Today we have some cafes that order only Ginger n Spice from us because it practically flies out the door and many chai lovers who just like a little bit of extra kick in their drink (or their cooking – check out our recipe suggestions here).
Now with three delicious flavours, we needed an on-brand storage solution… and so our hugely-popular canisters joined the family.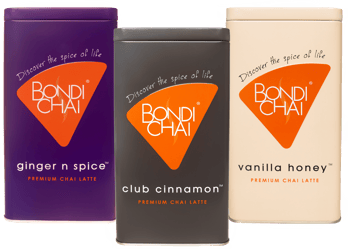 Most recently we have been completely overhauling the look and feel of Bondi Chai to better reflect our company values. We wouldn't be where we are today without the chai lovers of Australia who have supported us for the last 15+ years and we recently asked a wide cross-section of fans for input on what, if any, improvements we could make. There were some great suggestions and we've got some exciting changes coming soon, so watch this space!
In the meantime, check out the Bondi Chai Online Store here!