Heard of Let's Do Coffee? It's just a little television series on SBS hosted by Toni Pearen celebrating coffee, food and the café lifestyle – and chai, of course – that has been making its way around the world on various TV networks. Okay, maybe not so little then.
Back in 2015, Let's Do Coffee featured Bondi Chai for the first time when Melissa sat down to have a chai latte with Toni and chat about where the multi award-winning concept came from.
You may have noticed we said 'the first time'? Well, we followed it up in 2016 with a Bondi Chai making session with celebrity chef Jason Roberts and invented the delectably delicious Supa-Fruita-Damia.
Bondi Chai didn't stop with Toni and Jason, next on the agenda was two episodes of Foxtel's Industry Leaders. Melissa walked us through why she loves chai and how the company has grown from selling less than 20kg in the first month to 75 tonnes a year. Both episodes also showcased the spectacular scenery surrounding their home town of Port Stephens.
Later in 2016 we were in front of the camera again, this time for an overseas production. We were invited by Indonesian television network Trans7 to be a part of The Travels of Si Unyil, a long-running childrens' education series that is hugely popular across Indonesia. The show follows puppet Si Unyil and his friends as they explore how various products are made - from cars to food.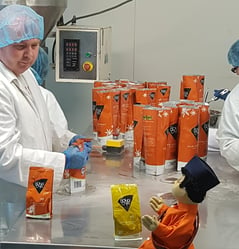 We're certainly out there in the world, have you seen us on your screens? Check out our Youtube Channel for more Bondi Chai videos!