Earlier this month we celebrated International Women's Day. The ladies of the Bondi Chai team based in NSW attended the local Port Stephen breakfast event at Murrook Cultural Centre and our QLD-based sales team got involved at the Destination Gold Coast lunch event held at The Star Gold Coast. It was fantastic to see such wonderfully strong women making their mark on the world at both events and listening to the younger generation's vision for a fair and equal future.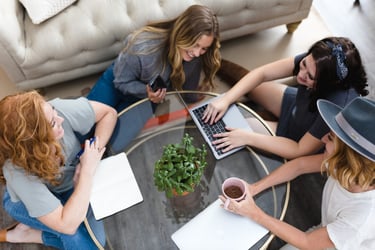 Did you know, according to a Typsy blog in 2017, a staggering 90.2% of all hospitality CEOs in Australia were men but 58% of their server and barista staff were women? What makes this statistic even more shocking is that their male counterparts were more likely, on average, to earn a higher wage. The stats in the last 5 years don't appear to have improved much, but Typsy does note that several initiatives have been launched over the years to support women in the industry.
With an increasing awareness of equality across all demographics and the still slow pace of change in creating a balanced workforce, we thought it was the perfect time to showcase some of the Boss Ladies we know who are breaking the mold in the café industry.
One of the real pleasures of serving café owners is being able to learn a little of their stories: what inspired them, how they got started, etc. We're constantly amazed by their drive and tenacity and in light of the recent International Women's Day, we're sharing the brief stories of just a few them…
This bustling café in Launceston, TAS, is a family business owned by Mary and George and the history behind their amazing business actually lies on Mary's side. The space they are in was originally owned by her parents when she was a teenager.
Back then it was a newsagency and takeaway store, but Mary and her husband took it over from her parents in June 2000 and since then have taken it through a couple of refurbs, expanding first to a 20-seat café after 6 months and then to a 100-seat café after 7 years.
Their two eldest sons both have experience in the café so it seems likely that Aromas will continue to be a family-owned institution well into the future.
The Good Food Bakery, Mornington Peninsula, VIC
Co-owners, Tammy and her fiancé Shane, have created a booming business that was inspired by Tammy's niece, Ebony, and her struggles to find delicious foods that suited her special dietary requirements.
The Good Food bakery prides itself on giving customers awesome service that includes decent serves of mouth-watering 100% gluten-free food, coeliac accreditation, no charge for alternate milk options and even complimentary sauce on your pies.
In 2020 Shane won 10 times in the Official Great Aussie Pie Competition (every pie he entered won its category), so you know they're yummy!
Flying Bean Café, Beechmont, QLD
This appropriately named café in the Gold Coast hinterland is situated amongst stunning scenery, directly across from… Canungra Hang Gliding Club's launch site. Owner Gemma, and her husband Adrian, had a dream of having their own café, and made that dream a reality.
Gemma, herself, is a true Beechmont local. She was raised in Beechmont by her surfer and hang-gliding enthusiast dad and potter mum. She has a passion for everything local: local school, local staff, local suppliers and supports local artisans in her café (her parents still own and operate the Beechmount Pottery, just down the road).
When you're stopping in, be sure to try their incredible food and gooey cookies!
Café Scooterini, Coolangatta, QLD
Owner Hollie is a real character, always full of life, just like her café!
A former employee at the café, Hollie grabbed the chance to become the owner when her employers decided to sell.
Between the café and her young son, she's kept pretty busy, but that doesn't stop Hollie from serving delectable bites and drinks, and the "service with a smile" for which Scooterini has become famous.
These are just a few of the amazing women who are leading the way in a male-dominated industry and we're proud to serve them as members of the Bondi Chai family.
Do you know of any amazing women who are making their mark on the world? We'd love to hear their stories!