It's not unheard of for us to go on and on about how amazing our chai is and a question we often hear from someone new to Bondi Chai is, 'what makes yours different to the others?'.
To start with, Bondi Chai prides itself on the fact that we don't have any fillers or industrial nasties in our blends. This sets us apart from many other brands because that means you won't find a 'sludge' of undrinkable yucky stuff in the bottom of your cup.
Bondi Chai is also a concentrated formula, so you don't need to heap 3-4 teaspoons (or in some cases, tablespoons) to get any kind of flavour. All you need is two level teaspoons (10g) to get the perfect flavour. This also means you get more chai lattes for your buck, with a 1kg pack yielding 100 serves.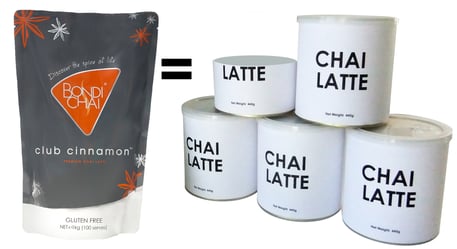 This is all great, you say, but what about the sugar?
We know that for many people sugar is the greatest concern, and it really needs to be considered in context. While sugar makes up the largest percentage of the pre-mix itself, a cup of Bondi Chai Latte has just 1 teaspoon (5g) of sugar – in exactly the same way that the vast majority of people drink their tea or coffee.
So, where are all the ingredients being sourced? We're glad you asked. We source 94% of our ingredients from right here on home soil. What's the breakdown?
- Australia: milk/whey powder, sugar, honey, ginger, spices
- Germany: spices, spice extract
- India: black tea extract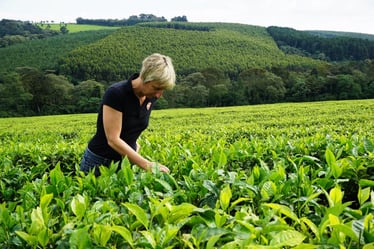 Melissa in the tea plantation, Kolkata
Black tea EXTRACT, what's that? Manufacturing tea extract is actually quite an interesting process. Currently, we are sourcing our tea from plantations in the foothills of the Himalayas (in the Darjeeling area).
To produce the powder, the tea is first brewed to our specifications in a huge vat and then pumped to the top of a high tower where it's sprayed into the air as a fine mist. The droplets dry as they fall and are collected at the bottom in a hopper as a powder.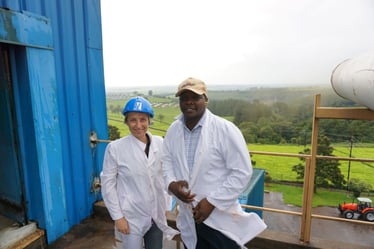 Melissa next to the spray tower, Kolkata
The powder is then shipped from Kolkata and blended with our other ingredients here in Australia to make the Bondi Chai you know and love. Making a product with so many powerful flavours and delicate ingredients is a VERY precise process – it's the main reason why no two chai recipes are alike.
A huge amount of work goes into producing our powders and we do all that to make sure that you can make your favourite 'hug in a mug' quickly and consistently with no fuss, no waste and lots of enjoyment.
Got more questions about what goes into Bondi Chai? Check out our nutrtitional information and our FAQ's.