The world is always rapidly changing around us, more so in recent years due to global lockdowns and border closures. Like all other living organisms on the planet, humans adapt to their environment when required and find new ways to survive in new circumstances.
Lately, access to services and resources has been extremely restricted, so the food and beverage industry (along with everyone else) has been forced to get creative. Here are some new concepts that look like they're here to stay, so keep an eye out for them near you:
Drone deliveries
China leads the way in many of the world's new technologies, and drone delivery is no exception. According to December 2021 blog on TechCrunch, Meituan (one of China's largest internet companies specialising in lifestyle and food delivery services) is in the first trials of their drone delivery service.
Currently operating in only seven suburbs around Shanghai, a subscriber to their app can order their desired item and then wait at one of the streetside kiosks for their delivery. The drones have a 3km range on them, which is why there is a limited testing area at the moment, but as the popularity of the service grows, so will the range.
In a report by Caixing Global, Meituan isn't stopping at aerial services, they're also testing unmanned delivery vehicles that are 'capable of reacting to obstacles in its surroundings to a radius of more than 150 meters and covering 80 kilometres on a single charge with a loading capacity of 150 kilograms'.
MILKRUN
Think Deliveroo, but for groceries. MILKRUN's credo is 'Groceries Delivered in Minutes' with delivery suburbs across selected areas of Sydney and Melbourne, and launching new suburbs every week.
According to their website, it's just like ordering your groceries online from Coles or Woolies, but without the wait times. They claim to source their produce directly from Australian farmers and they stock all the well-known brands, so you know what you're getting.
With multiple hubs across Sydney and Melbourne, their delivery team also use electric bikes to have your order at your door within 10 minutes, so their environmental impact is practically nothing.
The app is easy to install and available on Google Play and Apple App Store, and the service isn't short on glowing reviews. Check out their website for more info. BTW, they also now have a loyalty program, just in case you thought it couldn't get any better…
QR Menus
This little time-saver has been around for a while but is still worth mentioning because it looks like it's here to stay. QR codes have become a part of our daily lives over the last few years and they don't seem to be fading into the background any time soon – supermarkets are even putting them on our packaged meat products now!
It seems that this idea is a more accessible version of the table surface ordering screen – you know, that tech that very few restaurants had where you could put your order in using the screen on the table surface and you never had to go to the counter? Well, now that we're all used to QR code scanning, it made sense for cafes and restaurants to add an online portal for at-table ordering too at the height of social distancing and the trend isn't dying out anytime soon. Even now, you can order online or through an app (if available) and collect as you pass your favourite café. No lines and little to no wait time. The whole process is simply too convenient in a world that moves at lightning speed.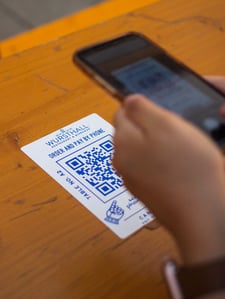 Photo credit: @alberthu via Unsplash
Pay It Forward
Okay, this one isn't a service innovation, but it's just as important. It's one thing to adapt your services and offerings to make sure you still have something to offer your customers, but what about those who have been hit hard, are struggling to make ends meet and can't afford your services anymore?
In November 2021 Bluebottles Brasserie in Woolgoolga, one of our long-time, loyal, Bondi Chai lovers started a 'Play It Forward With A Post-It' initiative. The idea was that their customers could choose to anonymously shout a stranger a hot drink. If you were struggling for cash, you could take one of the post-it notes from the board to the till to claim a free hot drink. No questions asked!
We don't know if it was something that made its way around the community or not, but it was a fantastic community initiative about people supporting each other in uncertain times and it should have been happening absolutely EVERYWHERE!
We're sure there are plenty more innovations that you've seen around in the last few years, and we'd love to hear about them! Let us know in the comments if there are any innovations you've seen that have impressed you.