You know what goes great with a steaming hot mug of your favourite Bondi Chai? A good book, that's what!
There's nothing like wrapping yourself up in a big warm blanket on a cold winter's day and getting lost in another world.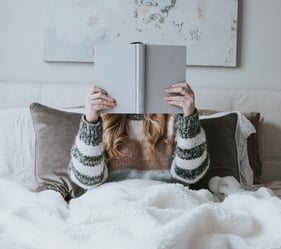 Photo credit: @_thedl via Unsplash
To help you out on your quest to escape the winter blues, I've rounded up a list of my top 5 recommended books:
The Botticelli Secret by Marina Fiorato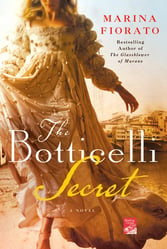 Luciana Vetra, a young and beautiful courtesan in 15th century Florence, Italy. One of her top clients asks her to model for one of his artist friends, Sandro Botticelli, for his latest painting, La Primavera. When Luciana makes an innocent, off-hand comment, Botticelli abruptly dismisses her without pay and in retaliation, she steals the unfinished work. When her friends start dying one by one, she tries to hide from her assailant in a nearby Franciscan Monastery and meets a novice monk, Guido della Torre, and together they go on the run from city to city across renaissance Italy, trying to decode the painting and understand why it is worth killing for.
It's a wild adventure that travels across all the Italian city-states before they unified into one nation, with the most unlikely duo. The way Luciana's crass personality and behaviour are constantly unsettling pious Guido is hilarious, and the interpretation of the painting itself is fantastic. I recommend doing what I did and printing off a copy of the painting so you can have a look at it every time they decode a section.
Fiorato also breaks the novel up into sections by city-state, so you always know where you are and when, and she weaves other well-known historical figures into the story, like the powerful Medici family and Christopher Columbus.
Check it out on Amazon.
Juliet by Anne Fortier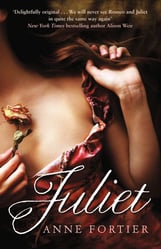 Julie Jacobs inherits a key to a safety deposit box in Siena, Italy, and is told it will lead to an old family treasure, but her mysterious inheritance leads her on a dangerous journey into the past - and to the true history of her ancestor, Giulietta, whose legendary love for Romeo turned medieval Siena upside-down. As she crosses paths with descendants of the families involved in the feud that inspired one of Shakespeare's most famous works, it becomes clear that the notorious curse 'A plague on both your houses' is still at work, and that she is the next target.
The story jumps back and forth between modern and medieval times so that you get the full effect of both worlds and it's important to remember that not everything is as it seems along the way.
If you check out Anne's author page on the Random House website, you'll also find an interactive map of Siena so that you can follow Julie's movement around the city and get a visual of what she's seeing as she discovers the secrets of her family's past.
And yes, I'm aware that there's a theme developing here…
Check it out on Amazon.
A Walk To Remember by Nicholas Sparks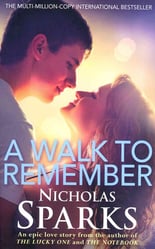 Landon Carter tells the story of his last year at Beaufort High School, North Carolina in the 1950's and the events that led him to become irrevocably entwined with Jamie Sullivan, the shy and reclusive daughter of the local Baptist minister. A twist of fate sees Landon and Jamie partner up for the homecoming dance, and the events that follow and the earth-shattering secret Jamie is hiding will change Landon's life forever.
Who doesn't love a Nicholas Sparkes book?! They're emotional rollercoasters, and we can't get enough. You can also cry your eyes out while watching the 2002 movie as well. I would recommend reading the book before watching the movie though because they are very different, both in the time period setting and the sequence of events, but they are both equally amazing, and Mandy Moore and Shane West did a fantastic job bringing the characters to life on screen.
Check it out on Amazon.
The Lovely Bones

by Alice Sebold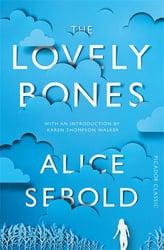 Susie Salmon's life is tragically cut short when she is only 14 years old in 1973 while walking home from school. From her personal purgatory, Susie watches her family and friends grieve her loss and struggle to move on with their lives while she emotionally comes to terms with her own premature death, before she can move on to Heaven.
I found this little gem in a book box (you know, those ones you used to get at the office back in the early 2000's that you could buy random books and gadgets from), and I simply couldn't put down. The first-person narrative is captivating, and it's no surprise that it became an instant bestseller when it hit the commercial market.
If the name sounds familiar, but you're not sure where you've heard it before, it's probably because it was made into a movie in 2009 with an all-star cast including Mark Wahlberg, Rachel Weisz, Susan Sarandon, Stanley Tucci and a then-barely-known Saoirse Ronan.
Check it out on Amazon.
Ariadne by Jennifer Saint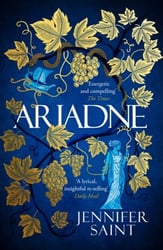 Ariadne seems to lead a charmed life as a princess of ancient Crete, but below her feet is an impossible labyrinth designed by the infamous Daedalus and home to her brother, the blood-thirsty Minotaur, the product of a curse inflicted by the god Poseidon on her mother to punish her father, King Minos, for his excessive pride. When Prince Theseus arrives among the annual sacrifices from Athens, with the intention of killing the beast, she immediately falls in love with him, but will helping him and betraying her family cost her everything?
I love period novels (in case you hadn't noticed), and this one was no exception. Jennifer Saint spares absolutely nothing in her vivid descriptions of the world Ariadne sees around her and the way the events that unfold make her feel, that you are pulled into the story from the first page and strapped in for the ride.
Check it out on Amazon.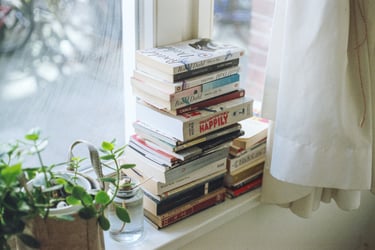 Photo credit: @florenciaviadana via Unsplash
Which books are in your 'to-read' pile this winter?