So, you've been on the Bondi Chai Recipes page and seen all the amazing treats and desserts we have listed, but then you ask:
WHAT ABOUT ICE CREAM??
As the winter months roll in and the temperature begins to drop, it makes the ice cream experience that much better because the risk of the creamy deliciousness melting before it reaches your mouth has dropped significantly.
Believe it or not, the recipe does exist and we're bringing it to your bowl courtesy of What's Mummy Up To...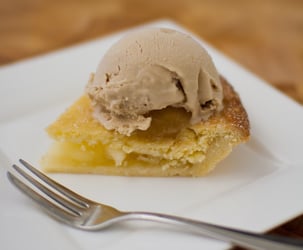 Courtesy of What's Mummy Up To...
What's in it?
For The Ice Cream
- 2 Sachets (30g) of Bondi Chai Club Cinnamon
- 2 Eggs
- 3 Egg Yolks
- ¾ Cups of Sugar
- 1 ½ Cups of Skim Milk
- 1 ½ Cups of Light Thickened Cream
- 1 Tbsp of Vegetable Glycerin
Equipment
- Ice cream maker
- Bench mixer or hand-held electric beaters
- Medium saucepan
- Mixing bowls
- Airtight freezer container
Courtesy of What's Mummy Up To...
How does it go together?
1.
Put the freezer bowl of the ice cream maker in the freezer for the time specified in the device instructions, or overnight.
2. Whisk the milk and cream together in a medium-sized saucepan. Pour in the Bondi Chai Club Cinnamon and whisk.
3. Bring the mixture to a boil over medium heat, then reduce the heat to low and simmer for 10 minutes, stirring occasionally.
4. Combine eggs, egg yolks and sugar in a mixing bowl with an electric mixer and mix until the mixture turns a pale yellow and thickens (about 2 minutes).
5. Measure 1 cup of the hot milk/cream/chai mixture.
6. With the mixer turned on at low speed, slowly pour the hot liquid into the egg/sugar mixture in a steady stream.
7. Once thoroughly combined, pour the entire egg/sugar mixture into the saucepan with the remaining milk/cream/chai mixture, and whisk together.
8. Cook over low to medium heat while stirring constantly until the mixture is thick enough to coat the back of a spoon. Watch it like a hawk to make sure it doesn't boil over.
9. Pour the mixture into a heat-proof bowl, cover with plastic wrap, and place in the refrigerator until well-chilled.
10. Follow the instructions from your ice-cream maker to churn the mixture until it forms a thick ice-cream. Store in an air-tight container in the freezer.
Hot Tip:
The flavour of this ice cream is strong thanks to the concentrated Bondi Chai formula so if you prefer a more subtle taste, you can substitute the Club Cinnamon with Vanilla Honey, or use 1 sachet (15g) of Club Cinnamon.